Students Enjoy The Blessings
From 8:10 a.m. to 3:00 p.m., students in 7-12 grades enjoy the blessing of individualized attention due to small class sizes. Class sizes average about 13 students per grade level in 7-12. Students in grades 7-12 move with their grade level to departmentalized classrooms, sometimes combining with the grade above or below them. However, Unity has a policy that no classroom will enroll more than 25 students. 
Each departmentalized classroom focuses on integrating a Biblical worldview throughout all areas of learning. Core curriculum for 7-12 grade students includes: Science/Physical Science/Biology, Math/Algebra, Literature, Writing, History/U.S. Government/Geography, and Bible. Additional classes can include: Art, Choir, Band, P.E., Computers, Speech, Health, Consumer Ed, Spanish, Pre-Calculus, Calculus, Chemistry, Physics, Accounting, and Journalism. Some electives may vary with interest.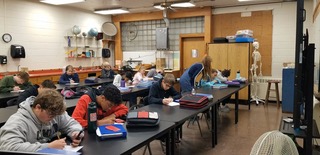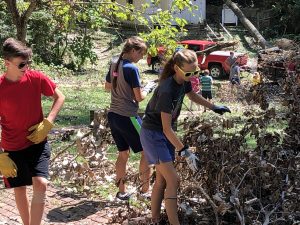 All but the first Wednesday morning of the month, 7-12 grade students attend chapel as a group. During chapel, students enjoy a time of praise and worship as well as hear a short message from a guest speaker that challenges them to grow spiritually. Serving others is also emphasized with a requirement of service hours for 9-12 grade students. 
7-12 grade students also have the opportunity to participate in many extra-curricular activities, such as: Girls' Junior High & High School Volleyball, Boys' Junior High and High School Basketball, Girls' Junior High and High School Basketball, Boys' High School Soccer, Girls' High School Soccer, Scholastic Bowl, Choir, Band, Jazz Band, and Drama. 9-12 grade students also have the opportunity to serve as Class Officers as well as Student Council.
7-12 grade students also take time to have many special fun events throughout the year including Retreat (beginning of the year), See You at the Pole, Christmas activities, Homecoming (basketball season), Spiritual Emphasis Week, and Junior/Senior Banquet, as well as many spontaneous school spirit days. Each season students also demonstrate their God-given talents during band/choir concerts, where art students also get a chance to share their projects.
No matter what our 7-12 grade students are doing, they are encouraged to do their best for the glory of God and not their own.